Nanjing Metro - Fastest and Easiest Way to Move!
Nanjing is a very big city. To travel one and another district it cost us a lot of time and energy, plus the money we spend for the transportation cost since a lot of foreigner have no bike or even car. Imagine if in some cases you want go to a place that quite far from your apartment due to a meeting but you wake up late and cannot find taxi on your way? Well, this kind of thing happens sometimes. Life give shit. But, Since we have this thing called Metro in Nanjing, say no more to slow mobility.
Can you tell me what is Metro? So metro or in Chinese you call it Ditie (地铁) is actually a Local Train that connects all parts in Nanjing. It is some kind like MRT in Jakarta if you ask but with older age. As we know all the people in China have high mobility and this Transportation helps a lot, not only to minimize time and cost, but also to save the earth, and reduce traffic jam. This is also become the most transportation that I use (beside Hello Bike) so far.
So let me introduce you with Nanjing Metro. The picture bellow is the Nanjing Metro map. Nanjing Metro. It has 20 line (Route):
Line 1

Line 2

Line 3

Line 4

Line 10

Line S1

Line S3

Line S7

Line S8

Line S9
And it has 13 Transfer stations (The station that connect to the other line). Quite big, huh?. Actually there are some of the line that still under the construction so it must be getting bigger, and more complicated than this.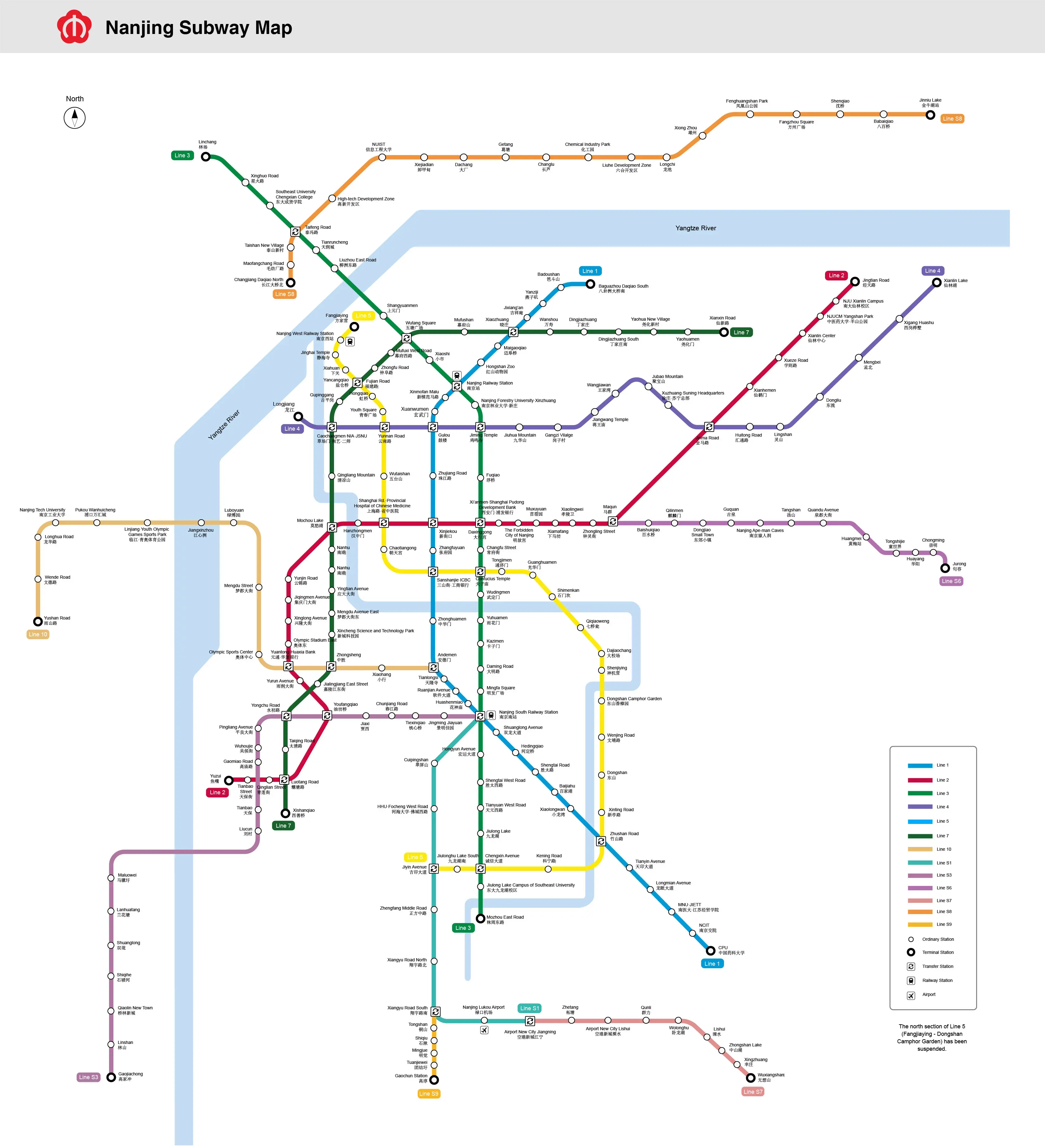 First,
before you take the train, you should buy a card in the vending machine. A card can only be use for a person.
The price of card:
- RMB 50 = US$7.135 / Rp. 100,403.- (
Not including the balance)
So if you want to directly use the card after purchasing you need to top up. The card and the balance can be paid either with Alipay, WeChat Pay, or Cash with minimum purchase of RMB 20.
Next, after buying the card, time to check in. Before check in you need to know the location that you are going to visit, because it defines the line you will take. if you need help to know your direction of metro, you can download the application for Metro, MetroMan (and I hope sooner or later I could write about this app in my blog too).
What is the importance of check in and check out, if you ask?. So check in means putting up your start point. After you finish to take the train and about to exit the station, you will check out, and some amount of money will be reduced in your card, depends on how long the distance you take on this train. That's how they determine the price that we should pay when we take the train.
And done, everyone. Enjoy your ride. its easy, right? You don't need to spend a lot of time and money, and also energy to go somewhere with metro. Just as simple as tapping your card and go. But, hey guys. Doesn't mean this train is the goddess of all when I say this is my favorite train all the time. This train also has downside. Not that big, but if you don't like to be in a crowd, you will hate this. Yes. In some rushing time like weekend, national day, the other holiday this train could be as crowded as hell (nah just kidding Ive never been to hell before) but really, in Chi
nese proverb, they call it

人山人海

(

Rén shān rén hǎi), People Mountain, People Sea. Means it's a very crowded place, so many people like the

mountain and the sea. Really? But still, even though it somehow crowded this train is worth to use!.
So
guys that's all about today's post. If you have any suggestion, question or even some advice you can simply comment down bellow or email me on monicasitompul17@gmail.com. Don't forget to follow my instagram @monicasitompul17. See you and have a good day <3